Tuesday, July 2, 2019 / by Demi Lucero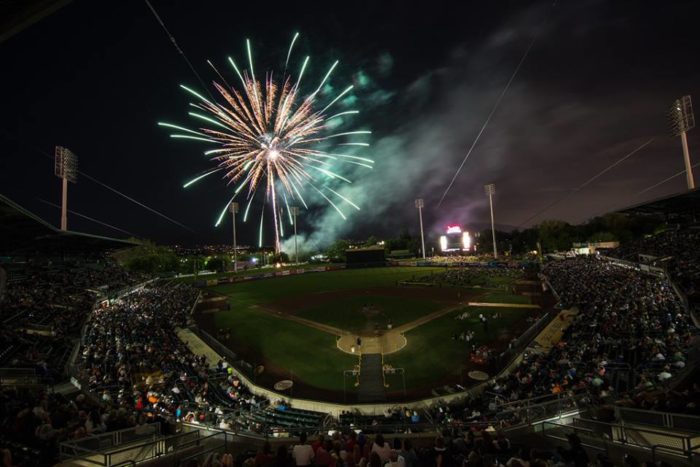 The Fourth of July is a national holiday that is beloved by pretty much everyone except for household pets. Though your trusty canine companion might not love the sights and sounds of the fireworks, there is no doubt that you and your family want to make sure that you spend your holiday observing the festivities from the best possible locations. Salt Lake City offers a wide range of fun and thrilling opportunities on this holiday including several truly great locations to watch the various fireworks shows from. Since there is nothing worse than setting up for a great show only to realize that the fireworks are far off in the distance and you can hardly see them, knowing where to go just might save your holiday.
The Gateway
This area is known for its collection of amazing restaurants and stores, but on the Fourth of July it is known for its exciting fireworks display. Within this area, you can spend your day eating, drinking, shopping, and exploring while listening to local bands and DJs. Your kids can enjoy getting their faces painted, playing games, and entering contests. All of this will eventually lead up to a beautiful fireworks show that will surely become one of your most treasured memories. This event has a little something to offer everyone, which is what makes it so great for families.
Jordan Park
If you are looking for a thrilling local display of patriotism, look no further than Salt Lake City's official Fourth of July Celebration. This area will play host to an entire event filled with food trucks, crowds, and all kinds of other fun as everyone gathers to countdown to a massive fireworks show. The official fireworks event will be located in the north section of Jordan Park, and though it doesn't start until ten, you will have plenty of time to eat and enjoy the company of your fellow patriots in the meantime.
Smith's Ballpark
This local favorite is known for housing the Salt Lake Bees, who will be fixed in battle on July 4th, 2019. Visit this local attraction for a thrilling baseball game, followed by some cheap beers, areas for the kids to play, and a fireworks display that is sure to bring your day of celebrating to a perfect finish. You can enjoy the combination of America's favorite pastime with the raw energy of patriotism crackling through the air for a truly once in a lifetime experience.
Salt Lake City has almost as many fireworks shows planned for the Fourth of July as it has people. It is safe to say that the entire city and surrounding area will be home to brilliant displays of art flashing across the sky as we all come together to celebrate ourselves and our country. Whether you are looking to attend a booming celebration or something a little more low key, Salt Lake City has options for every kind of person during this beloved holiday. This will be a day to celebrate good food, good people, and an amazing country.