Thursday, July 27, 2023 / by Justin Critchfield & Michelle Aspseter
Hello there, property enthusiasts!
If there's one thing certain about the real estate market, it's that it's always changing, always surprising us. And this year is no exception. We've seen quite a few twists and turns in 2023, and I am here to break it down for you.
To start, I'd like to draw your attention to a specific graph (as depicted below). This graph showcases median single-family home prices in Salt Lake County. It's interesting to note that we witnessed a significant peak in 2023, followed by a steady decline.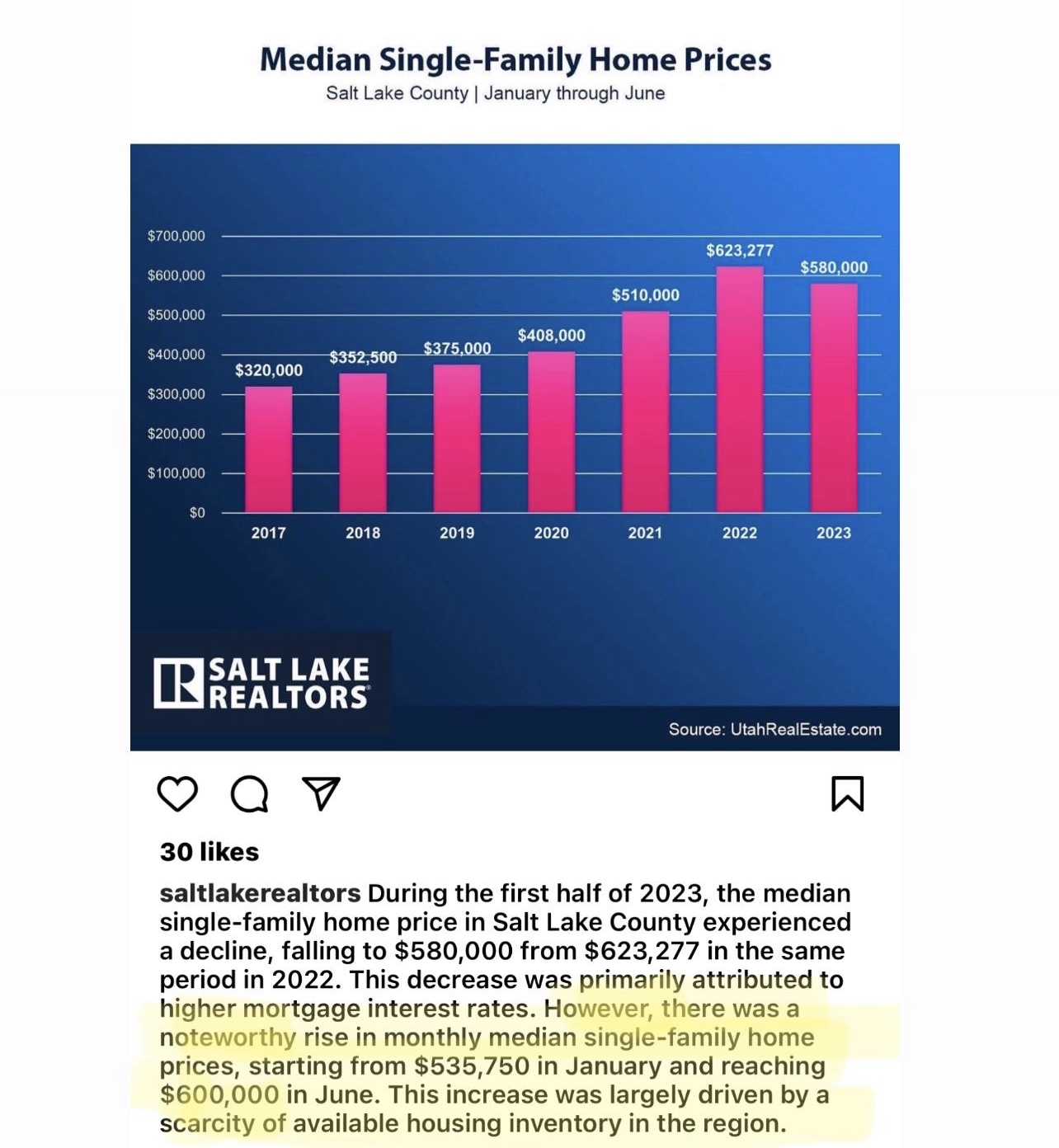 What caused this peak and subsequent decline? Well, the prime culprit was the rise in interest rates in 2023. But as the famous saying goes, "What goes up, must come down," and the same holds true for interest rates. Their impact on the housing market, however, is often less predictable, and in this case, it led to a dip in home prices.
The yellow part of the graph points to an intriguing development in the housing market. The latter part of 2023 started to witness a reversal in the downward trend of home prices, with prices beginning to climb up once again. The average cost escalated from $535K up to an impressive $600K! The primary driving factor behind this increase appears to be a shortage of available properties.
Our analysis gets even more fascinating when we delve into the details of what happened in July in Salt Lake County and Utah County. One would expect that the hike in interest rates would continue to depress prices. However, something unexpected occurred: home prices went down by approximately a dollar per square foot in Salt Lake County, while in Utah County, they dipped by two dollars per square foot. Is this a sign for lower prices? Probably not since July is typically a slower month for the real estate market.

So, what does this mean for our market and potential home buyers? Despite the slight decrease in price per square foot, the outlook remains optimistic. Home prices are, in fact, likely to continue their upward trajectory. However, as interest rates continue to rise, we should expect a slight cooling in the market pace.
All in all, we find ourselves in an intriguing and complex housing market, shaped by various influencing factors. As we continue to navigate through the rest of the year, it will be interesting to see how these dynamics evolve and shape our real estate landscape.
Keep an eye on this space for more updates and insights into the ever-changing world of real estate. Remember, knowledge is power - especially when it comes to investing in property!